A fast & friendly pet door fitting service that you can trust
Cat flap fitting by Hunters Glass Ltd
Here at Hunters Glass Ltd we offer a fitting service for all types of cat flaps and pet doors throughout London, Leeds, Sheffield, Manchester, Birmingham, Nottingham, Peterborough and the rest of the UK.
Call us today to book your fitting and get ready for the return to work. Having a cat flap fitted will give you peace of mind knowing your pets will be safe and secure.
Not your average cat flap fitters
Unlike your average cat flap fitting companies, we specialise in custom cat flaps in double glazing glass & UPVC patio doors. So if you're looking to give your pet convenience, comfort and freedom but not compromise on your glass doors, Hunter Glas Ltd provides the perfect solution.
You can email a photo of your door or window that you would like the cat flap fitted into, we can then send you an estimate. Please send to enquiries@huntersglass.co.uk
As proud members of The Guild Of Master Craftsmen, you can be confident that all of our pet doors are fitted to the highest standard. We are professional, reliable and highly skilled glaziers which enables us to offer you a service that is second to none and at the best prices.
We are an approved installer for Sureflap Pet Doors

Free quotes are available, call 0330 133 1655
(MORE: Where is the best place to install a cat flap)
Our cat flap fitting service
We now have over 20 years of experience in the fitting of cat flaps. All our double-glazed units come with a full guarantee against misting up. Here at Hunters Glass Ltd, we can put most size cat flaps into double-glazed units, it is not possible to cut a hole into an existing double-glazed unit. We would have a new toughened unit made with the hole pre-cut.
We can install pet flaps into UPVC panels as long as they are completely flat on both sides, some decorative moulded panels can be replaced with flat ones instead.
We can also install cat flaps into single glazing, we would not recommend cutting a hole into the existing glass as if this breaks it could injure your pet, we recommend replacing the glass with a new panel of toughened safety glass with the hole pre-cut to ensure the safety of your pet.
(MORE: Our top tips when you get a cat flap installed)
Here at Hunters Glass Ltd, we keep up with the latest developments in the cat flap market, hence we highly recommend the new Sure Petcare Microchip Cat Flap Connect with an optional Hub.
The Sure Petcare Connect range enables customers to control their product via their smartphone when used with the app and Hub. The app also provides owners with insight into their pet's activity and routine, allowing them to spot changes and better understand their well-being.

We can help install SureFlap products throughout London, Leeds, Sheffield, Manchester, Birmingham, Nottingham, Peterborough or anywhere else in the UK.
(MORE: Top 5 tips on how to protect your cat flap)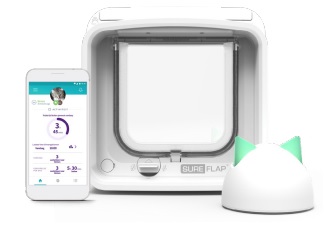 Here's how the cat flap works:
Connect the Hub to a spare port on your home router. The Hub acts as the link between the cat flap and the internet.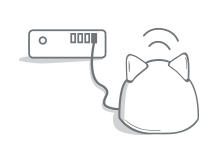 The Sure Petcare app provides you with notifications and reports on your pet's location and activity.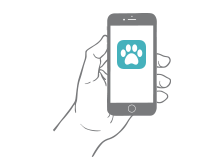 When your pet interacts with the Microchip Cat Flap Connect it will let you know. You can also control when your pets are allowed to leave.


Choose who stays indoors and who can leave with DualScan™ technology, and change permissions using the Sure Petcare app.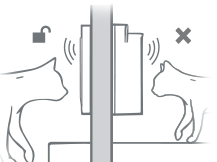 Installing the right cat flap for your home

STEP 1 – Choosing Your Cat Flap
The way it works: You choose the best cat flap to suit your cat's needs, from the basic 4 way locking cat flap, to the latest microchip or a magnetic cat flap – as long as it has a circular hole we can fit it for you, although considerably more technical we are also able to provide square or rectangular cut-outs in glass for larger pets should you require.
Alternatively, we can provide you with a cat flap to suit your needs.
STEP 2 – Measuring The Glass
We will then arrange an appointment to suit you to come and take precise measurements for your new glass panel, single or double-glazed.
STEP 3 – Cutting The Glass
The glass will then be cut at our factory and toughened so it's nice and safe for your pet, it is then manufactured into a unit if double glazed before it's ready for fitting.
STEP 4 – Fitting The New Glass
After making an appointment to suit you, we will then re-attend your property and remove the existing glass pane and refit the new glass pane, fitting the cat flap for you at the same time.
(MORE: How to train your cat to use a cat flap)
Speak with our team or use our live chat
To speak with our team, across London, Leeds, Sheffield, Manchester, Birmingham, Nottingham, Peterborough or anywhere else in the UK, please call us today on 0330 133 1655 alternatively you can request a quote via our contact form and we'll get back in touch ASAP.