Cat Flap Fitting Nottingham
Cat flap approved installers across Nottingham.
Did you know that we are fully trained and qualified Sureflap Pet Door Approved installers? Now that you do, find out more about us and our services by calling us on 0330 133 1655.
Benefits of installing a microchip cat flap
There are plenty of advantages that come along with a microchip cat flap. Here at Hunters Glass Ltd, we have listed some signs for you. These include:
Prevents other cats from entering your home
This is one of the biggest advantages of installing a microchip cat flap. When your pet is near the cat flap, it interacts with the microchip cat flap, allowing your cat to enter and leave whenever they want.
Have full control
A microchip cat flap allows you to pre-programme your cat is allowed to leave your home. This helps massively when you are trying to put in a routine and keep it consistence.
Track your cat
The Sure Petcare app provides you with notifications and reports on your pet's location and activity, so you can keep track of your pet's location every time they leave.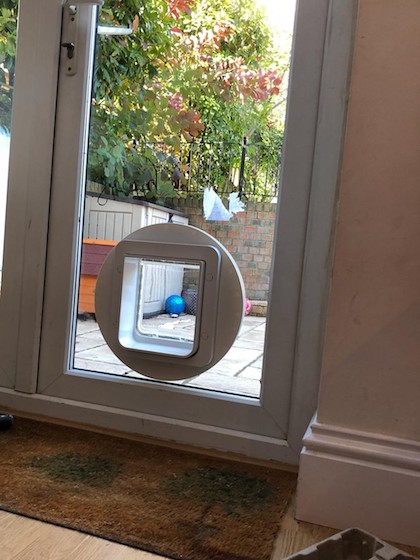 Choosing the right cat flap for your cat
By make sure that you choose the right flap for your cat is very important because it makes it easy for them to leave and enter your home whenever they want. When choosing a cat flap, there are many options you can go for, and here at Hunters Glass Ltd, we have listed a few of them for you.
Pick
the right size for your door
With various sizes available, it is important to get the right size door installed for your cat. There are some flaps available that are big enough to accommodate dogs, so if you have multiple pets, opt in for a larger size flap.
What type of door is it getting fitted into?
Whether it is a UPVC, wooden or a french door, you can have a cat flap installed in all types of doors with our bespoke cat flap fitting services. We make sure to carry out all the necessary measurements of your door and specifically design and create a new cat flap suited to meet your requirements.
Concerned about security?
If you are worried about stray pets entering your property or of the security of your home, a cat flap is still a better option when compared to leaving a window slightly open for your cat to go out. There is also an increase in the use of microchip technology, which means that it is programmed to open and close only for your pet.
If you are still concerned about a cat flap or need additional help with choosing a cat flap, get in touch with our professional and reliable cat flap fitters across Nottingham by viewing our contact details down below.
Our Cat Flap Fitting Services
When it comes to installing cat flap doors, you can be assured that you are in safe hands with us. At Hunters Glass Ltd, we ensure all cat flaps are installed to the highest standards and meet your requirements.
We have installed plenty of cat flap doors across Nottingham, and you can look through our previous work by heading to our gallery page.
Our customers have also highly appreciated our bespoke services, from helping them choose the right cat flap to installation. Do not just take our word for it; you can head over to our reviews page and read through the reviews they have left behind.
Book a Cat Flap Fitting Service?
For bespoke cat flap fitting services across Nottingham, call us on 0330 133 1655 and we will be happy to help. You can also email us at enquiries@huntersglass.co.uk and we will get in touch with you as soon as we can.