Cat Flap Installers Leeds
Offering cat flap installation services across Leeds.
Show your cat that you care by installing a brand new cap flap. This allows your cat to have the freedom it deserves and allows you to have peace of mind. If you want to know more about our cat flap fitting services, call us on 0330 133 1655.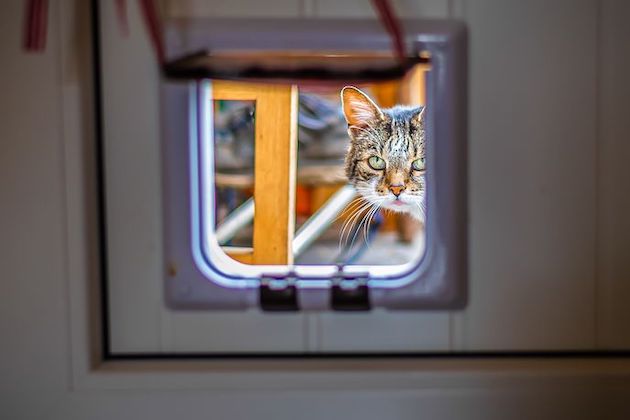 Our Cat Flap Installation Services
Here at Hunters Glass, we have 20+ years of experience installing various cat flaps throughout the UK. All of our cat flap fitters are highly skilled and knowledgeable, and they will be happy to guide you through choosing the right cat flap for your cat and help you install it. Browse through our installation projects across Leeds by visiting our gallery page.
We are SureFlap Pet Doors approved installers, meaning we have been trained by SureFlap to ensure we carry out all installations to the highest standards and meet your requirements. We are also confident in installing microchip cat flaps!
Types of SureFlap cat flaps:
- SureFlap DualScan Microchip Cat Flap
- SureFlap Microchip Cat Flap Connect
- SureFlap Microchip Pet Door Connect
What Are Microchip Cat Flaps?
Microchip cat flaps are a great way to ensure that only your cat enters your home. The microchip is a key for your cat, so it can enter and leave your home whenever it wants.
Not only that, but when your cat leaves your home, you can also track and locate your cat wherever it is!
Our expert installers are on hand to assist you with any installation services you require, so you and your cat can feel safe. Speak to our glazing experts today to find out more by clicking the link below.
Where is the best place to install a cat flap?
When you are looking into getting a cat flap installed, finding the right place to install it on your property can be a bit difficult. Here at Hunters Glass Ltd, we have listed a few places that you need to consider. These include:
The side alley to make your cat feel secure.
Have multiple cat flaps, so they can entire your home quickly.
Have it lower down, so it is easier and more comfortable for your cat
How we install luxury cat flaps
Here at Hunters Glass, we understand that your cat's safety is paramount, so we ensure all cat flaps are installed safely and correctly. Here are the steps that we take to install cat flaps in your home safely:
1. We help you choose the right cat flap for you, your home and your cat.
2. Secondly, we will arrange a suitable time to measure your glass.
3. We then cut the glass at our factory
4. Finally, we book a time to fit your new glass with the cat flap
It just takes four easy steps to install a cat flap in your home, and we also offer Guarantee. Our installation process ensures that your doors are not ruined, no brickwork is needed, and all-new glass can also be made for french doors.
If you would like to know more about our cat flap services, simply get in touch with us by viewing our contact details down below.
Find out more
For more information about our cat flap installation services throughout Leeds, call us on 0330 133 1655 and we will be happy to help.
You can also email us at enquiries@huntersglass.co.uk or message us using our contact form and we will get back to you as soon as possible.
We hope you choose Hunters Glass for any cat flap fitting services that you may require.