Cat Flap Fitting Services in Sheffield
Offering bespoke cat flap fitting services across Sheffield.
For all types of cat flaps that you can install in your home, here at Hunters Glass, we are on hand to fit all types of cat flaps to meet your requirements. For more information about our cat flap services, call us on 0330 133 1655.
Our Cat Flap Door Installation Services

Here at Hunters Glass, not only do we offer double glazing, door and window repair and replacement services, but we are also professional cat flap fitters across the UK. Many customers choose to install a cat flap door into their double glazed door.
When you call our qualified fitters, they will help you choose the right cat flap for your home. They will start off by measuring the glass panel on your door and go through the right size flap for your cat, create a new panel and get the flap cut at our factory.
They will finally fit the new glass with the cat flap for you when it is already. Our fitters have installed plenty of cat flaps across Sheffield and the surrounding areas. Browse through our gallery page to view our previous projects.
Microchip cat flaps
You will be glad to know that we are fully trained and qualified SureFlap installers here at Hunters Glass Ltd. Find out more about how a microchip cat flap works by viewing the short video below.
Benefits of microchip cat flaps
There are plenty of benefits that come along with smart cat flaps. These include:
Gain full control over when your cat is allowed to leave
Keep track of your cat's activity wherever you are
It prevents stray cats from entering your home
(More: Benefits of microchip cat flaps)
How to get the right sized cat flap for your cat

Here are a few steps to ensure that the flap you install for your cat is the right size.
Measure the width of your cat
This should be from the widest part of your cat, the chest or the hips. Also, make sure to add one to two inches on top in case of any weight gain in the future.
Measuring the height of your cat
When carrying out this measurement, this should be from the shoulders to the bottom of the chest or belly, again, add one or two extra inches.
Our expert cat flap fitters are one hand to answer any questions you may have. If you would like to know more or have any questions that you would like to ask our team, simply get in touch by viewing our contact details down below.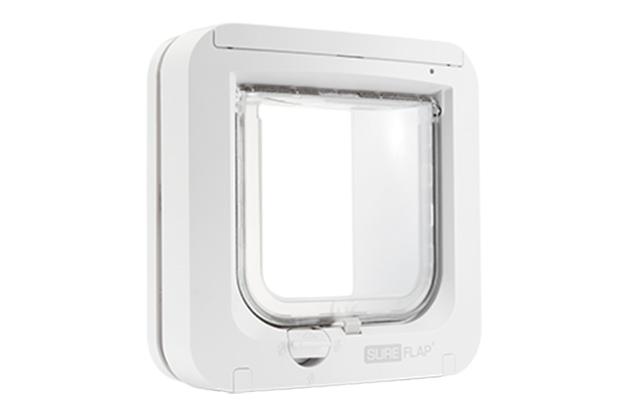 Want to know more?
For more information about our cat flap installation services across Sheffield and the surrounding areas, call us on 0330 133 1655 and we will be happy to help.
You can also email us at enquiries@huntersglass.co.uk and we will get back to you as soon as we can. We hope you choose Hunters Glass for any cat flap fitting services that you may require.