Boarding Up Services
At Hunters Glass, we understand the importance of safety and security when it comes to your properties. That's why we offer 24/7 Emergency Glazing and boarding Services throughout London, Leeds, Sheffield, Manchester, Birmingham, Nottingham, and Peterborough. Our team is dedicated to ensuring that your properties remain safe and secure all year round.
Providing Reliable Assistance When You Need It
When faced with an emergency, you need prompt and reliable assistance. We are just a call away at 03301331655. Our glaziers are available around the clock and are ready to help you in any situation.
Emergency Boarding Up Services
At Hunters Glass, we take pride in being available 24/7. As proud members of CHAS (Contractors Health & Safety Assessment Scheme), we prioritise safety and strictly adhere to all health and safety guidelines. Whether it's day or night, our engineers will take every precaution when attending properties, giving you peace of mind.
Our Services Include:
24/7 Emergency Boarding Up
Our team is always ready to provide emergency boarding up services to secure your property promptly.
Emergency Glazing And Burglary Repair Services
In the unfortunate event of a burglary or a broken window, door, or shop front, we offer glazing and repair services to restore security to your property.
Same-Day Glazing And Repairs
We understand the urgency of the situation, which is why we provide same-day glazing and repairs to minimise disruption to your daily life.
No Call Out Charge
We believe in transparency and fair pricing. That's why we don't charge any call-out fees.
All Work Guaranteed
Our experienced professionals ensure that all work is carried out to the highest standards, giving you peace of mind.
Available 24/7
We are available every day of the year, ensuring that you have access to our services whenever you need them.
Boarding Up Service for Broken Windows
A broken window can occur at any time, and it's crucial to address it promptly. At Hunters Glass, we provide a 24-hour boarding up services for your convenience and safety. Our skilled glaziers will be dispatched to your home or business to handle the issue. We prioritise your safety and the security of your property, especially during this challenging time. When you choose us, you can rely on our expertise and professionalism.
We also offer preventative boarding-up services for clients who want to protect their properties before and during events or protests, both for commercial and domestic properties.
Benefits of Domestic and Commercial Boarding Up Services
Security
The tremendous increase in security that boarding up services offer is one of its most important advantages. These services serve as a strong deterrent to potential thieves, vandals, and even unauthorised entrants. You may effectively block unauthorised access and potential hazards to your property by boarding up vulnerable entry points like windows and doors. Homeowners and businesses alike can have the peace of mind they need to go about their everyday activities with the additional layer of security.
Protection from the Environment
The main benefit of boarding up services goes beyond security and includes reliable defence against natural forces. Because of these services, you no longer have to worry about rain, wind, or debris getting onto your property. Boarding up services reduce the possibility of internal damage that might happen as a result of bad weather by constructing a strong barrier. This ensures that even in bad weather, your property is secure, protecting both the building and your belongings from potential damage.
Eliminating Future Damage
The capacity of boarding up services to stop the course of structural damage is another crucial component of these services. Leaving openings ignored after damage has already happened might result in further issues including diminished structural integrity and greater susceptibility. An immediate fix is to board up damaged portions to effectively enclose these spaces and stop any further damage from happening. By acting quickly, you can dramatically increase the lifespan of your building and keep future, expensive repairs from becoming necessary.
Keeping Your Privacy
In addition to improving security, boarding up a home also ensures some level of privacy. Your abandoned property doesn't attract the unwelcome attention of onlookers or prospective criminals. This privacy acts as an additional layer of security by discouraging people from trying to enter the building or look inside. You can be sure that your personal area will stay just that—personal—with the assurance of privacy.
Temporary Solution
Although long-term repairs might be required, boarding up services offer an essential short-term fix. Boarding up is a useful interim measure rather than rushing into urgent permanent repairs, which may not be practical right now. This temporary fix gives you the time and freedom to arrange and carry out extensive repairs whenever it's convenient for you. It serves as a useful bridge, safeguarding your property while the required repairs are being made.
Our Approach to Boarding Up and Burglary Repair Services
When you hire us for boarding up and burglary repair services, here's what you can expect:
Comprehensive Boarding
We can handle any type of boarding, whether it's a single window or an entire property.
High-Quality Materials
We utilise 11mm sterling boards for our boarding-up services, but if requested, we can use ply boards up to 19mm for added strength and security.
Temporary Doors
For domestic and commercial properties, we offer the option of fitting working board-ups or temporary doors on-site and on the same day.
Subframes for Minimal Damage
We build subframes where required to ensure that no damage is caused to existing frames during the boarding up process.
Double Glazed Units
For double glazed units, we employ different methods depending on the damage. This includes glazing the board into the aperture or screwing it into the frames, depending on the specific situation.
Guaranteed Work
All our work is guaranteed and carried out to the highest standard, ensuring your satisfaction and safety. Feel free to visit our gallery page to browse through examples of our previous work.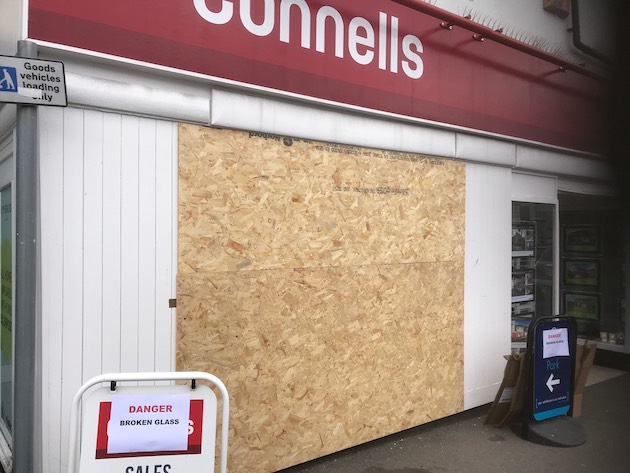 Reach Out to Us
For efficient boarding up services in London, Leeds, Sheffield, Manchester, Birmingham, Nottingham, and Peterborough, contact Hunters Glass at 0330 133 1655. We prioritize your safety and security, and our glaziers can reach your property within one hour. Choose Hunters Glass for all your boarding up needs and experience reliable and professional services.