Window Filming
Window film fitting services are available across the UK, including London, Leeds, Sheffield, Manchester, Birmingham, Nottingham, Peterborough or anywhere else in the UK.
Window Film comes in many varieties, giving multiple benefits and are an excellent, more cost-effective and practical alternative to blinds. Here are just some of the reasons why window filming could be right for you and your business.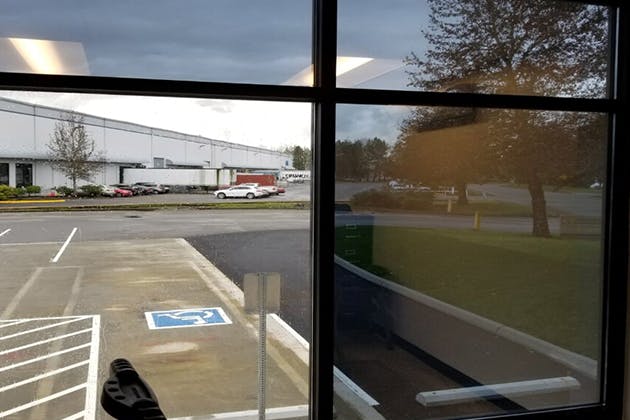 Benefits of Window Filming
* More practical and cost-effective than blinds.
* Reduces Glare.
* Reduces your Carbon Footprint by reducing Greenhouse Gas Emissions.
* Can Help Cut Energy Costs and therefore save money on energy bills.
* Protection from harmful UV Rays to the skin and furnishings and equipment.
* Heat Reduction - Provides a more comfortable temperature in the summer.
* Scratch Resistant Films Available.
* Can be removed without the worry of it damaging glazing.
* Provides privacy to certain areas such as meeting rooms etc.
Current Health & Safety and Display Screen Equipment Regulations make it the employer's responsibility to provide a comfortable working environment.
Staff productivity and attendance can be greatly affected due to high temperatures and glare that can cause eye strain, headaches and fatigue, amongst other things.
With the government's current push to reduce energy usage within buildings, our solar films are an excellent addition and can dramatically reduce the energy transmitted into a building.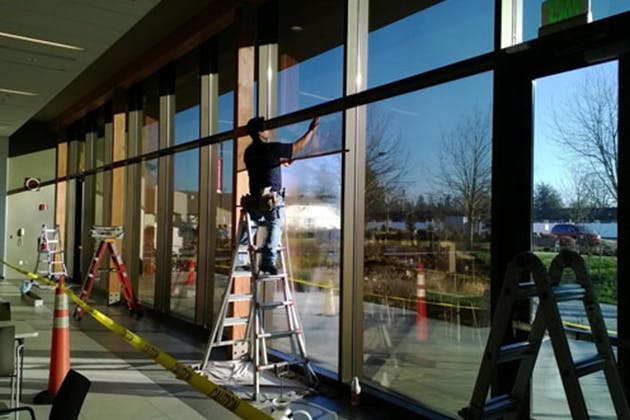 Please note that not all films provide every benefit, so it is essential to take the time to consider and choose a film that best suits your needs. We are here to help and advise you with this.
Many types of window film and vinyl are available for a wide variety of uses, including solar heat reduction, UV protection, privacy, safety, security and decorative applications. Window films and vinyl offer more individual glass solutions, from subtle tints to bold colours.




Typical films we supply are:




Solar control in high reflective silver or neutral tint.
Used to reduce glare by up to 85% and excessive solar heat by up to 80%
Clear 100 - 250 microns.
Used for safety and enhanced security by preventing splintering and flying shards of glass.
Opaque or 'frosted'.
Used for privacy, allowing light but keeping out prying eyes.
White and coloured vinyl.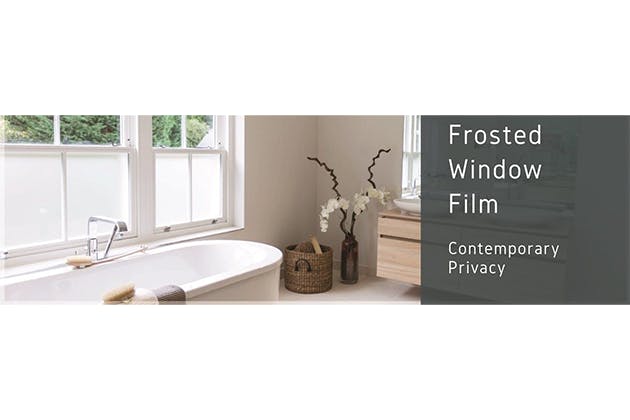 Used for total obscuration that can closely match frame or corporate colours.

It is strongly recommended that all filmed glass is fitted with the filmed face internal to prevent weathering.
Statistics show that heating a building takes approximately 3 times more energy than cooling it!
Solar energy and glare that enters your building through ordinary glass windows as radiated heat, light and glare can make everyday tasks very uncomfortable.
Installing our films to your existing glazing is the most cost-effective way to reduce incoming temperature and glare. They could reduce the running costs of air conditioning greatly or even eliminate the need to install it. Our solar window films can reduce the percentage of solar heat entering the building by up to 91% and the percentage of solar glare by up to 96% whilst still allowing light to pass through.
COMMERCIAL PRIVACY FILM FOR OFFICE & BUSINESS
Privacy is an integral part of any business. Keep meetings private with the application of privacy window film and manifestations.

Applying privacy film will stop people from looking into your meeting room or office and reduce distractions for staff members looking out from within a meeting room or office.
Privacy film can be applied to whole glazing panels or smaller areas, balancing lots of natural light and adequate privacy. Films can be printed or designed, such as logos or text cut from the film to create an etched glass appearance.