When it comes to office décor, most people think of paint colours, furniture and wall art. But what about the windows? Commercial window film can add a lot of style and personality to your office while also providing some practical benefits.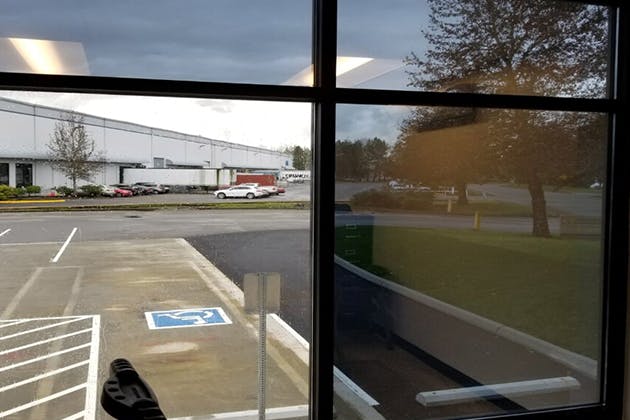 How can I use window films on a commercial property?
Here are six ways you can use commercial window film in your office:

1. Window film can help to control the amount of light that comes into your office
Prefer a darker atmosphere? Window filming can assist and limit the amount of light that makes it through your windows.
2. It can also be used to reduce glare on computer screens and other electronic devices
Let's be honest it's really annoying when that little spot in the corner of your screen always gets hit by a ray of sunshine and nearly leaves you blind, window filming stops that problem and leaves you (and your eyes) in peace.
3. Window film can provide privacy for employees who need it
If privacy is what you're after, then maybe getting commercial window film is what you need. Wrap up the windows of an office so that you can work in peace.
4. It can keep your office cooler in the summer and warmer in the winter
By fitting heat absorbing and reflecting window films, less of the heat passes through the glass and the demand for air conditioning is reduced, saving on your energy bills as another added bonus!

5. Window film is a great way to protect your office windows from scratches and dents
If you've ever accidentally dropped your keys on a glass table, you know how quickly scratched and chipped windows can become an eyesore. Window film is a clear plastic film that adheres to glass surfaces, creating an invisible barrier that helps to prevent scratching and denting.

6. It can even be used to create a decorative effect in your office

If you've ever felt like your office could use a little sprucing up, you may want to consider darkening your windows. If you find yourself feeling tense or stressed at work, the soft, calming effect of darkened glass can help to ease your mind.

If you don't have window film in your office, now is the time to change that. Window film can save you money on energy costs and make your office more comfortable. Hunters Glass Ltd can help you get commercial window film installed so that you can start seeing the benefits right away. We offer our services throughout London, Leeds, Sheffield, Manchester, Birmingham, Nottingham, Peterborough and the rest of the UK.
Give us a call today on 330 133 1655 to learn more!